International Workshop on Robot Motion and Control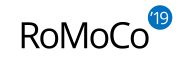 Warsztaty Robot Motion and Control (RoMoCo) to naukowe wydarzenie o międzynarodowej renomie, które zostało zapoczątkowane w 1999 r. Jednym z głównych twórców a następnie przewodniczącym i aktywnym organizatorem cyklu warsztatów, których najnowsza 12 edycja przypadła na rok 2019 r. był prof. dr hab. inż. Krzysztof Kozłowski. Od 2017 r. warsztaty organizowane są pod patronatem Instytutu Automatyki i Robotyki. Kolejna edycja pierwotnie planowana na 2021 r. z uwagi na pandemię została przesunięta o dwa lata.
RoMoCo od strony technicznej współfinansowane jest przez IEEE Robotics and Automation Society; Polish Chapter IEEE Robotics and Automation Society; IEEE Polish Section; IEEE Control Systems Society; IFAC Technical Committees TC 4.3 Robotics i TC 2.1. Control Design; oraz Polskie Towarzystwo Pomiarów, Automatyki i Robotyki (POLSPAR) - polską organizację członkowską IFAC.
Głównym celem warsztatów jest prezentacja najnowszych osiągnięć obejmujących modelowanie, sterowanie i planowanie ruchu w robotyce. Inne podejmowane problemy dotyczą też nowych rozwiązań konstrukcyjnych robotów manipulacyjnych i mobilnych, nieliniowych technik sterowania układów mechanicznych i układów wieloagentowych oraz systemów percepcji i nawigacji.
Warsztaty kierowane są zarówno dla doktorantów i młodych adeptów nauki jak i doświadczonych badawczy. Znakiem rozpoznawczym RoMoCo są bardzo dobrze przygotowane i oryginalne referaty plenarne wygłaszane przez rozpoznawalnych światowej klasy naukowców. Publikacje są indeksowane m.in. przez bazy Web of Science i Scopus.
link do strony konferencji:
https://romoco.put.poznan.pl